How to export Optifi collected information to other applications?
On the main screen mousing over the information / "i" icon will display important information related to WiFI connection.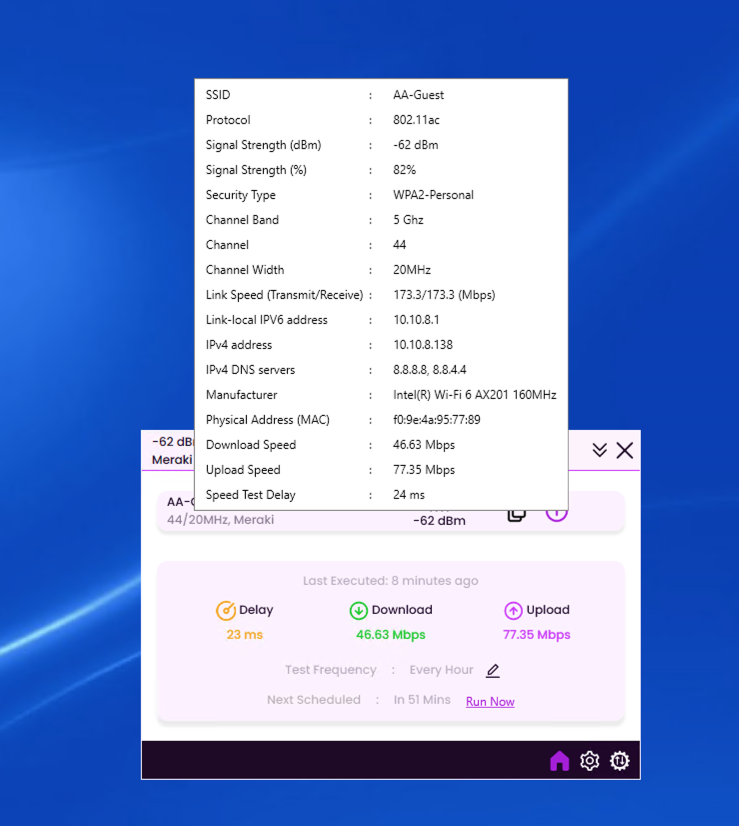 To share this information into other applications click the copy/paste or "i" icon and the text will be copied to clipboard. Sample copy/paste of data is below.
SSID : AA-Guest
Protocol : 802.11ac
Signal Strength (dBm) : -61 dBm
Signal Strength (%) : 82%
Security Type : WPA2-Personal
Channel Band : 5 Ghz
Channel : 44
Channel Width : 20MHz
Link Speed (Transmit/Receive) : 173.3/173.3 (Mbps)
Link-local IPV6 address : 10.10.8.1
IPv4 address : 10.10.8.138
IPv4 DNS servers : 8.8.8.8, 8.8.4.4
Manufacturer : Intel(R) Wi-Fi 6 AX201 160MHz
Physical Address (MAC) : f0:9e:4a:95:77:89
Download Speed : 46.63 Mbps
Upload Speed : 77.35 Mbps
Speed Test Delay : 24 ms