WiFi Scanner Free Form Filtering
Free form filtering is available by typing into text area above table.
Possible filtering options are below. Combine items with comma (or), & (and), ! (not). Use the disk icon to save filters for future use.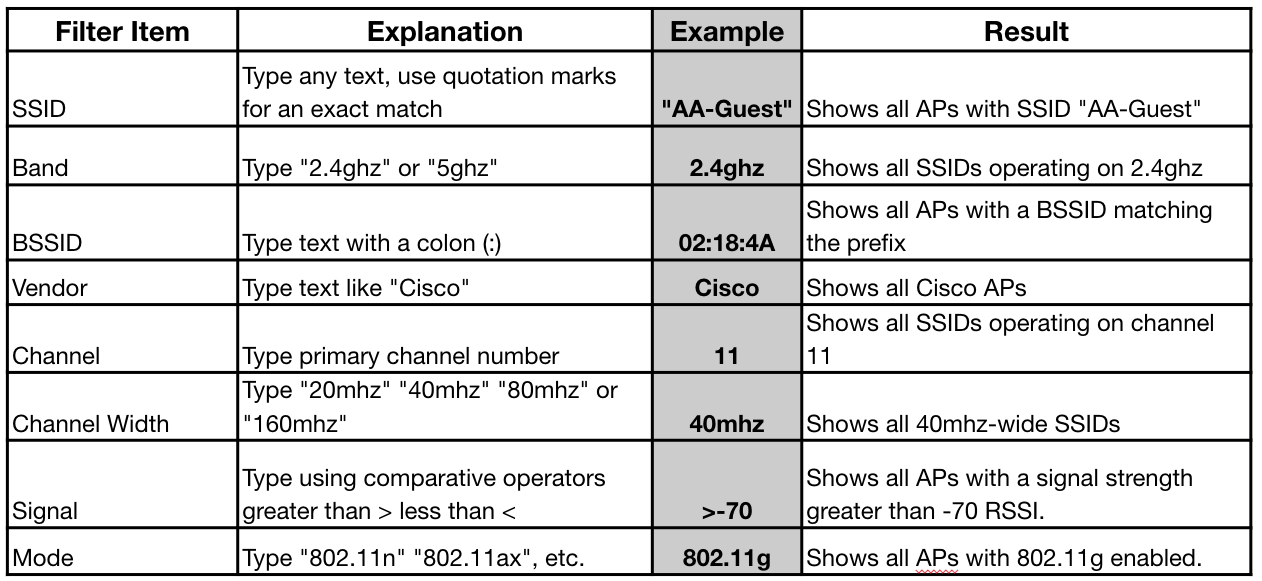 Entering text will be used for SSID, Vendor, DeviceName but it can fail if SSID has numbers in it like if you enter slow99 - "Contains Match"

Entering a number will be used for Channel - Exact Match

Entering 20mhz/40mhz/80mhz/160mhz will be used for Channel Width - Exact Match

Entering 2.4ghz or 5ghz will be used for band filter - Exact Match

Entering >-40 or <-40 will be used for Signal/RSSI filter is used, please note support for "=" is not yet supported

Use "," to combine more than one filter - 6,9,11,slow,2.4gz will work and it is considered an OR filter.

If the string contains ":" BSSID search will be used

Use & for AND filter for example aa-guest,&44 will return all BSSIDs with SSID aa-guest AND on channel 44.
Use ! for NOT/negate filtering. For example !1 will return all access points not on channel one.
Logical Operators
! (Bang) = NOT/Negate
& (Ampersand) = AND
, (Comma) = OR

Examples
!2.4ghz
All BSSIDs
NOT on the 2.4 GHz band

2.4ghz&6
All BSSIDs on the 2.4GHz band
AND using channel 6

40mhz&2.4ghz
All APs that are 40 MHz wide
AND on the 2.4 GHz band

1,6
All APs using channel 1
OR channel 6

2.4ghz&!6
All SSIDs on the 2.4GHz band
AND NOT using channel 6

2.4ghz&6,11
All BSSIDs on the 2.4GHz band
AND using channel 6
OR channel 11

!1&!6&!11&2.4ghz
All BSSIDs
NOT using channel 1
AND NOT using channel 6
AND NOT using channel 11
AND operating on 2.4 GHz band
Comparative Operators
> (Greater than)
< (Less than)

"AA-Guest"&>-50
All APs displaying the SSID "AA-Guest"
AND with a signal strength greater than -50 RSSI